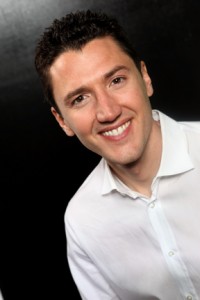 Adam Timm is a stress management consultant, meditation coach, award-winning speaker and best-selling author. A 9-1-1 operator for a decade, Adam struck a breaking point six years into his career. Stress had consumed him, causing daily tension headaches, regular bouts of acid indigestion, and bringing general feelings of misery. Ah, the life of the chronically stressed.
About this time, Adam found the practice of meditation. Within six months, his life had changed dramatically, opening into a much lighter, more joyful experience.
Having kicked his habit of stressful living, Adam began coaching others on how to do the same. Seeing a need for a proactive stance on stress and its detrimental effects, in 2011 Adam started a meditation-based stress reduction program at the LAPD dispatch center. The first of its kind, the program has helped over 100 dispatchers break free from chronic stress.
Through his company, ZenLife Services, Adams offers coaching and consultation services to high-stress organizations and the people who work in them. Adam is available for speaking engagements, presenting on the topics of Stress Awareness and Balanced Living. For more information or to book Adam for your next event, visit www.zenlifeservices.com, or email
adam@liveazenlife.com.
Permalink Comments off